B
Being self-employed can be a lonely occupation at times. After years working in a newsroom environment, switching to a home office was a bit of a culture shock to say the least. And while Jay and I are lucky in that we have each other to bounce our (usually off-the-wall) ideas off, we're also really fortunate to be part of a fantastically supportive Scottish wedding community.
Within that circle there are lots of incredibly creative and talented individuals, and several of these lovely peeps have become very good friends. People often assume that wedding photographers are ridiculously competitive with each other, when in fact the truth couldn't be more different for most successful pros. After all, who else would be available to help us get giddy on Champagne on a Monday evening in November.  😉
And so it was that after a couple of vinos one night over at Blue Sky Towers, we came up with a cunning plan, subtly codenamed 'Paris'. There would be friends, there would be fashion and (the cherry on the cake) there would be film!
Notes from our first planning meeting…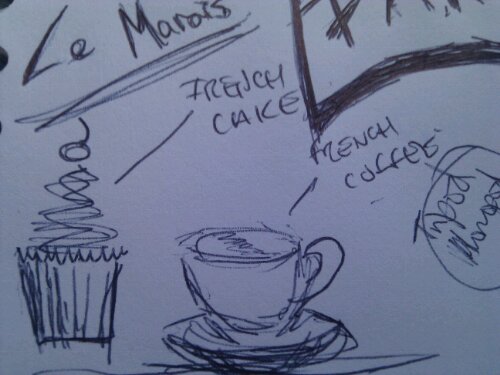 On Sunday, while Hollywood's best were frocking up and preparing to strut the red carpet, an equally glamorous – yet admittedly less well-off – group of individuals were gathering here at Elemental HQ for a film premiere of their own.
As the hosts, we kicked off the proceedings with our highlights from the trip.
And then it was the turn of  Team Blue Sky and Team Archibald – whose photos (as always) frickin' rocked!
Finally, the time had come for Team Cherry Tree to air their masterpiece. And OMG (this is the first and only time Jay has  allowed me to say that on our blog!), is it not just the best film ever! Sorry Colin Firth, but clearly it is.
You can watch it here.